BIG, BEAUTIFUL WATER RESISTANT PICNIC RUGS THAT ARE MACHINE WASHABLE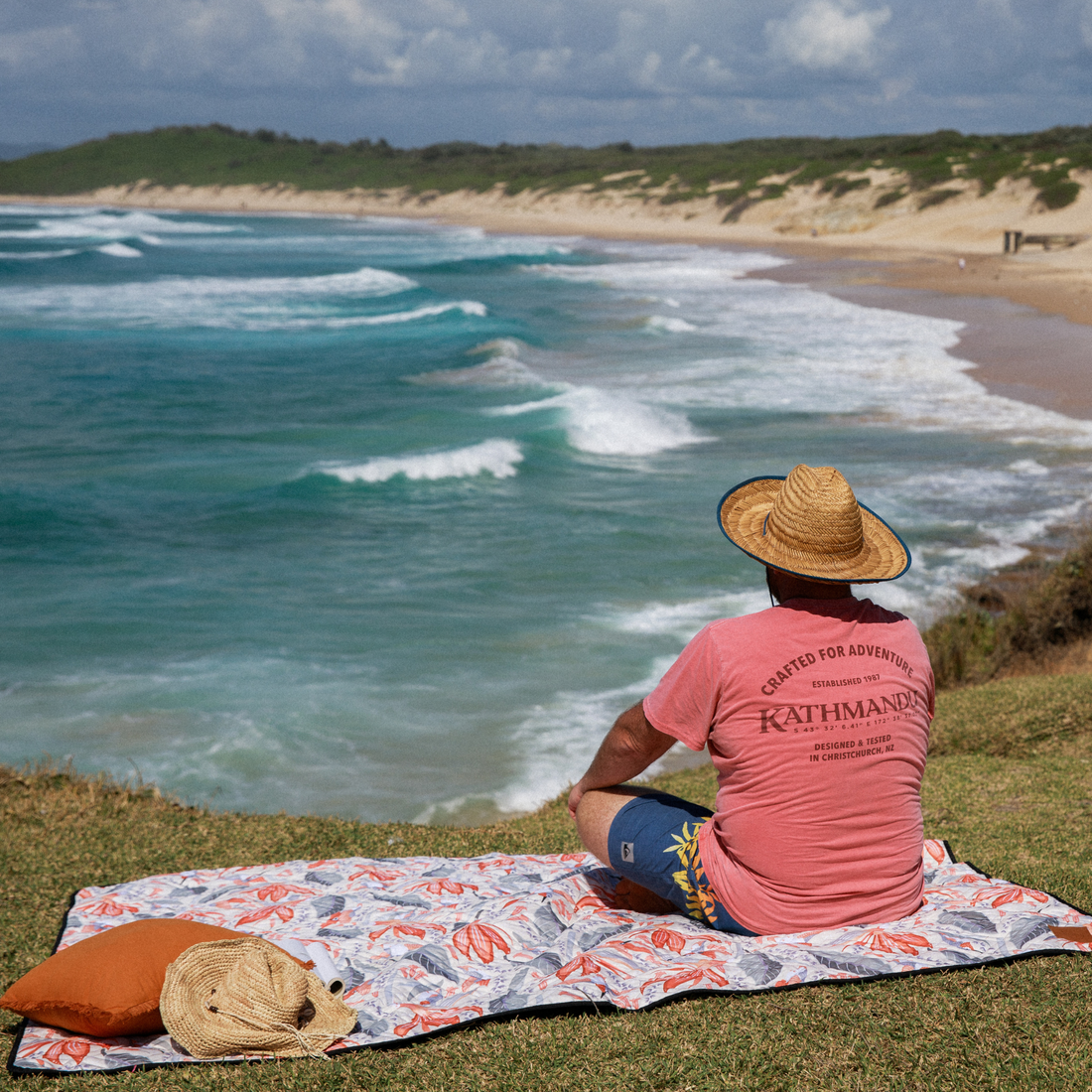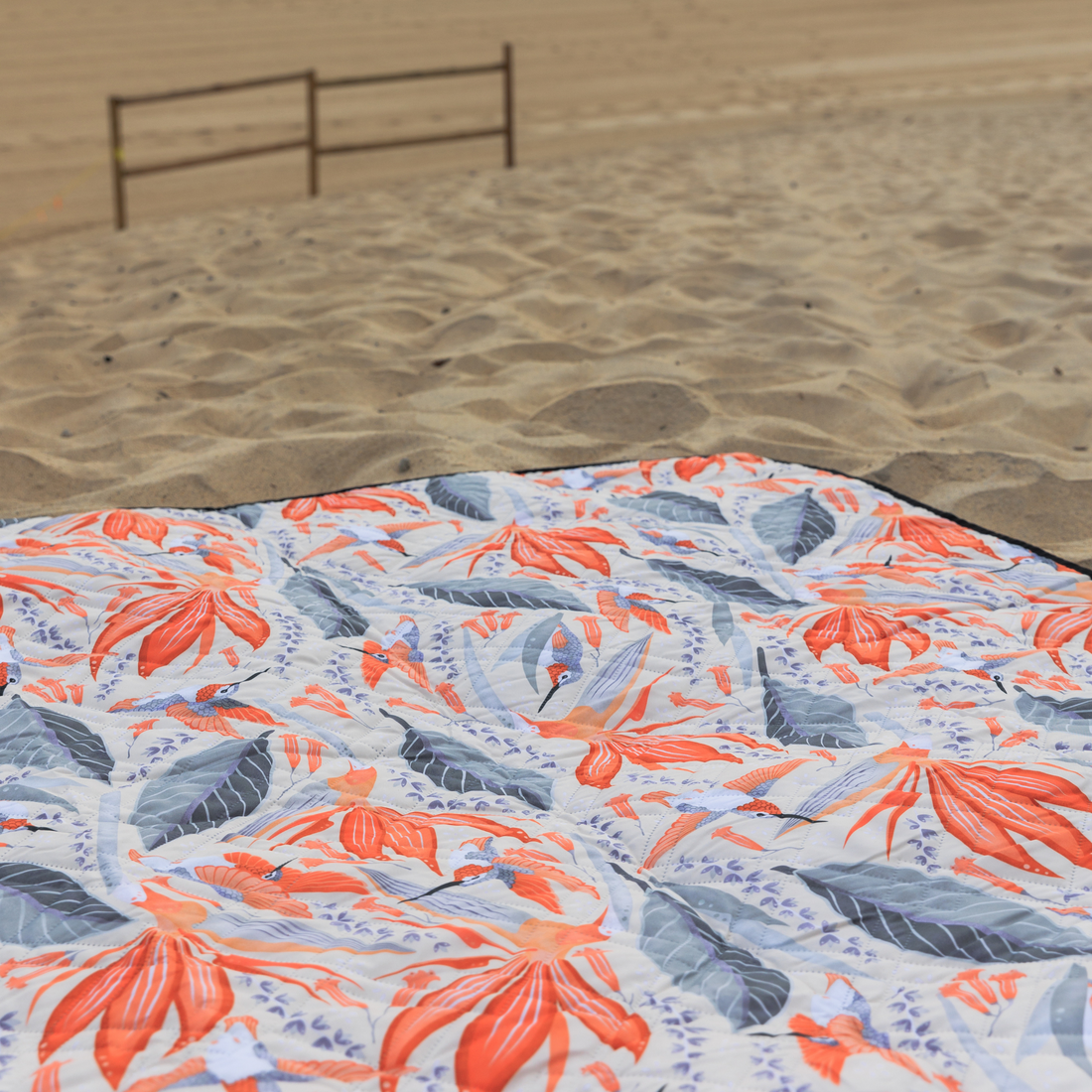 Visa

Master

American express

Paypal

Afterpay

Apple pay

Google pay
Large, Stain Proof, Water & Sand Resistant, Machine Washable & Crafted from 100% Recycled Fabrics.
STANDARD SHIPPING $15 | EXPRESS $25
When we first saw this design by New Zealand artist Catherine Marion, we had to lock it in for our latest collection. 
We had been following Folk Lore and Flora for some time as we love us some wallpaper and when this design landed in our feed, we knew it would make a stunning Picnic Rug.
This hand drawn design has gorgeous hummingbirds intertwined with amazing florals, delivering bright but earthy colours on a light natural creamy base.
Here is Catherine with her inspiration for the design ...
"This design is inspired by a childhood memory, a memory of summers in Quebec, observing the tiny hummingbirds that would gather only once a year to collect nectar from the trumpet-shaped flowers in my garden.

In Native American culture, the hummingbird is a sign of luck and is often perceived as a healer. There is definitely something magical in the sight of a hummingbird as they often seem to appear out of nowhere and will vanish in the blink of an eye."
Hummingbird, like all Saltwater Picnic Co. rugs is sustainably crafted using recycled materials that are water, stain and sand resistant while also being machine washable.
To create the perfect Picnic Rug we had to start by ensuring that it was going to be totally useable.
Picnics are usually on surfaces that are anything but flat ... and there are usually kids involved.
This means you are definately going to have to deal with a drink spill and/or food mess at some point.
So you can relax more and stress less, we use techniques and materials that make our rugs stain proof and machine washable.
Every single piece of fabric used to make our gorgeous picnic rugs are created from recycling plastic water bottles.
The stain proof upper, the waterproof bottom, the comfy filling in between and the piping that holds it all together are all eco friendly recycled fabrics.
We reduce our carbon footprint by working with supply partners that utilise sustainable energy and offset by planting trees through Ecologi.
Each rug is a large 2m x 2m, made from a single material piece (no joins) and contains a 150gsm filling making it super comfortable to spend as much time as you need hanging with family and friends.
Our 12 month limited Picnic Rug warranty covers the original purchaser for 12 months from the date of purchase with a replacement rug if any defects occur during the normal use and care of their Saltwater Picnic Co. Picnic Rug.
EASY CARE
Machine Washable
If you decide to purchase a gorgeous picnic rug, then it makes perfect sense to keep it looking beautiful for as long as humanly possible. So to make our picnic rugs perfect, there was no doubt that they would need to be machine washable, as so many on the market are not. So we have used a technique to craft our rugs that allows them to be machine washed and line dried, so your rug stays perfect for longer.
MADE FROM
Recycled Fabrics
With so much plastic waste polluting our waterways and filling our landfills, if a solution exists to use waste plastic and recycle it into a luxurious feeling fabric, it would be crazy not to use it … right? To make the perfect picnic rug we had to be as eco friendly as possible, so every thread in a Saltwater Picnic Rug is made from 100% recycled fabric and each rug saves water bottles from landfill and ocean pollution.
KID FRIENDLY
Spill Proof Finish
Very rarely will you be able to set up a picnic on perfectly flat ground, which means from time to time you are going to encounter a spill or two (especially if kids are around). To make the perfect picnic rug we had to ensure that they were stain proof, so when spills happen your gorgeous rug isn't ruined. Our rugs utilise a technology that forces liquids to bead versus soak, so any spill can quickly and easily be able to be wiped up before any staining occurs.
FREQUENTLY ASKED QUESTIONS
Our rugs when open are all 2 metres x 2 metres (200cm x 200cm) when rolled they measure approx. 35cm x 17cm.
Officially our rugs are classed as being water resistant, not waterproof. They are designed to be used on damp, dewy grass or sand without getting a wet bum, but they won't work as a pool toy.
All our rugs utilise a liquid repellent technology that causes anything spilt on them to bead up versus soak in, making them easy to clean and impossible to stain.
If you order before midday (AEST) on a weekday, your order will normally leave the same day, otherwise it will be the next business day. Orders ship from Castle Hill in NSW so shipping time will be based on your location from there.